It's been rumored that Activision and Infinity Ward is working on Modern Warfare 3 for quite a while now, with a November release date expected.
A recent interview with a voice actor from the Modern Warfare series, Craig Fairbrass', who did the voice for Gaz in Call of Duty 4: Modern Warfare, and Ghost in Call of Duty: Modern Warfare 2, recently made comments about being in L.A. doing voice over work for a new game while alluding to the Call of Duty franchise.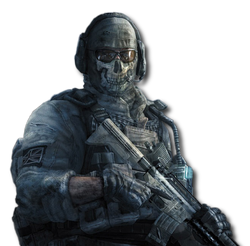 "

I've just been out in Los Angeles doing something, I've been out doing some bits and pieces and one of it's to do with err…can't say too much you know what I mean…

— Craig Fairbrass

"
When asked about the Call of Duty series he added.
"

Yeah I did Call of Duty Modern Warfare as Gaz then I did Ghost in Modern Warfare 2, which has become one of the most iconic figures in the history of computer games,

— Craig Fairbrass

"
It has been confirmed that the next Call of Duty game will be a collaborative effort among Activision developers, two of which happen to be located out in Los Angeles. So do you think that this is related to Modern Warfare 3? Or another unrelated game? Only time will tell...
---
---
Ad blocker interference detected!
Wikia is a free-to-use site that makes money from advertising. We have a modified experience for viewers using ad blockers

Wikia is not accessible if you've made further modifications. Remove the custom ad blocker rule(s) and the page will load as expected.