So for you CoD PC gamers here are the minimum specs for Call of Duty: Black Ops:
OS: Windows XP, Vista or 7 (Windows 95/98/ME/2000 are unsupported)
Processor: Intel Core2 Duo E6600 or AMD Phenom X3 8750 or better
Memory: 2GB RAM
Graphics: Shader 3.0 or better 256MB NVIDIA GeForce 8600GT / ATI Radeon X1950Pro or better
Hard Drive: 12GB
DirectX: DirectX 9.0c
The requirements have gone up since Modern Warfare 2. Your PC now needs to have a two/three core processor, MW2 only needed one. Memory requirements have gone up from 1GB to 2GB and you will also need a better graphics card. (Or you could buy a Xbox 360 or a PlayStation 3)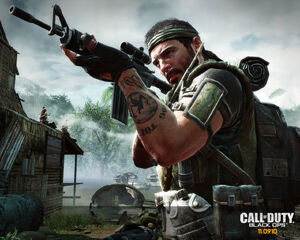 Call of Duty: Black Ops will be released on Xbox 360, Playstation 3, PC, Wii and DS on 9th November 2010
Ad blocker interference detected!
Wikia is a free-to-use site that makes money from advertising. We have a modified experience for viewers using ad blockers

Wikia is not accessible if you've made further modifications. Remove the custom ad blocker rule(s) and the page will load as expected.