Demo available on Xbox Live and update that fixes some glitches and bugs on all platforms
---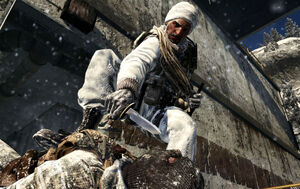 A demo for Call of Duty: Black Ops has hit Xbox Live today featuring gameplay from the level WMD for only 916.64MB. Queue up the download for your Xbox here!
Also ready for the release of the First Strike map pack another Double XP weekend, starting March 4th and ending March 7th for all Platforms (X360, PS3, PC, Wii) will see two times the normal rate of XP & CP being earned and a new title update has arrived for the game today.
The big change is an update to the matchmaking system, the feature which pairs you up with other, similarly skilled players in competitive matches and Treyarch will now be able to tweak the matchmaking without having to submit changes for a proper title update. There's also been some "additional sniper rifle tuning" on the Multiplayer front.
The zombie mode gets a healthy dose of fixes as well, including the removal of an aggravating bug which updates the leaderboards after each match regardless of how it ranks against your overall performance so now instead of your 50 round Zombie killing spree being replaced by your 5 round error, the leaderboard will now automatically show your highest reached round. 'Treyarch also addressed a number of exploits, which means it's time for fans to get cracking on finding some new glitches to hide out in.
Full List of changes
(Title Update 7)
Issues Addressed:
Matchmaking improvements to return higher quality results faster. This change includes settings that are tunable in the live environment, so tweaking may continue beyond initial release of this update.
The in-game store now hides DLC map packs that do not match the language of the player's disc to decrease the possibility of users downloading the incorrect language version.

Calling in a Chopper Gunner immediately after getting shot down in a Gunship will no longer end the Chopper Gunner run prematurely. Required timing-specific button presses.
Split screen players are now able to change camera perspectives and cycle through players as a spectator.
Addressed an issue where the most recent match played in Zombies could overwrite the best match played on the leaderboard.
Improved Zombies lobbies to prevent players from erroneously receiving the error "Unable to join game session" under certain circumstances.
Addressed a number of community-discovered Zombies gameplay exploits.
Additional security feature updates.
Gameplay Tuning
Additional sniper rifle tuning.
---
Note: It looks like the ADS speed got increased and a slightly faster centre speed after you scope in with snipers
---
Ad blocker interference detected!
Wikia is a free-to-use site that makes money from advertising. We have a modified experience for viewers using ad blockers

Wikia is not accessible if you've made further modifications. Remove the custom ad blocker rule(s) and the page will load as expected.