An online petition has been made asking for a full refund on Call of Duty: Black Ops because of "sub-par graphics, buggy software and less features."
---
The petition says "Call of Duty Modern Warfare 2 was released on Xbox 360 & Playstation 3 console last year and looked identical to one another. There weren't that many differences and gamers got what they paid for. There should be no reason why BO should have been any different. They advertised a game that fans have come to love and in the end, for their latest release, the Playstation 3 got the short end of the stick. They sold us this degenerate version of BO at the same price as Xbox 360 version."
and that the main issues with the game is: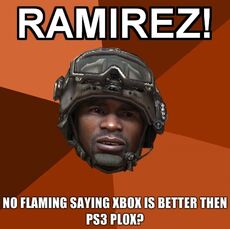 Low Resolution (sub-par graphics) 544p?
Buggy Software
Game Freezes
less features than xbox 360

No auto load for MP
No split screen sign in for individual accounts

Online lag
Frame rate drops
Disconnects for no reason
---
So, what do the Playstation 3 gamers here think? Are you going to sign the petition? Do you think the game isn't worth the full amount?
Ad blocker interference detected!
Wikia is a free-to-use site that makes money from advertising. We have a modified experience for viewers using ad blockers

Wikia is not accessible if you've made further modifications. Remove the custom ad blocker rule(s) and the page will load as expected.