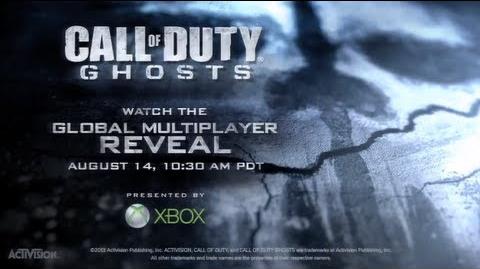 A new Trailer for the Call of Duty: Ghosts multiplayer reveal event has hinted at locations were Ghosts will be playable. Thanks to Charlie INTEL for the list:
August 14th: LA reveal
August 21st: Gamescom event
September 26th: Eurogamer, London
September 26th: Games, Dubai
October 3rd: Moskva, Russia
October 4th: EB Games Expo, Sydney
October 5th: First Look, Netherlands
October 23rd: Brazil Game Show, San Paulo
October 25th: Games Week 2013, Milano
October 30th: Games Week, Paris
Ad blocker interference detected!
Wikia is a free-to-use site that makes money from advertising. We have a modified experience for viewers using ad blockers

Wikia is not accessible if you've made further modifications. Remove the custom ad blocker rule(s) and the page will load as expected.