British computer game store GAME is set to open hundreds of its stores at midnight for the launch of Call of Duty: Black Ops.
GAME confirmed it will open most of its stores at 11.45pm on Monday, November 8, and will stay open for at least one hour.
Neil Ashurst, head of UK PR at GAME, said:
"The excitement around COD: Black Ops is clearly gathering momentum and we're as excited about its arrival as our customers. We're running a really good pre-order campaign and customers are excited about the different versions of the game that are available from us. Our midnight openings will be worthy of a title such as this that is in the running for being the Christmas number 1 game."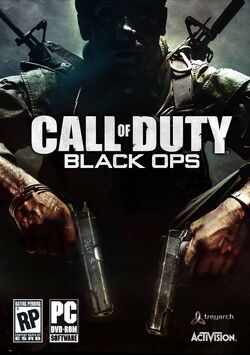 Here's the full list of stores opening at midnight:
(To find the GAME near where you live, press CTRL+F on your Keyboard and type in your area.)
Aberdeen
Aberystwyth
Accrington
Aldershot
Andover
Antrim
Ashford
Ashton
Athlone
Ayr
Ballymena
Banbury
Bangor
Bangor (N.I.)
Barnet
Barnsley
Barnstaple
Barrow inFurness
Basildon
Basildon
Basingstoke
Bath Southgate
Beckton
Bedford
Belfast
Belfast
Belfast (Abbey)
Belfast (Connswater)
Belfast Castle Court
Bexleyheath
Birkenhead
Birmingham (Pall)
Birmingham Fort
Blackburn
Blackpool
Bluewater
Bluewater
BognorRegis
Bolton
Bolton
Bootle
Boscombe
Boston
Bournemouth
BournemouthCastle Point
Bradford
Bradford
Braehead
Brentwood

Bridgend
Brighton
Brighton
Bristol
Bristol (Cribbs Causeway)
Bromley
Bullring
Burnley
Burton
Bury StEdmunds
Buxton
Camberley
Cambridge
Cannock
Canterbury
Cardiff
Cardiff
Cardiff
Carlisle
Carmarthen
Castleford
Chelmsford
Cheltenham
Cheshire Oaks
Chester
Chester
Chesterfield
Chiswick
Cirencester
Clacton on Sea
Clydebank
CoilliersWood
Colchester
Colchester
Coleraine
Coventry
Coventry
Craigavon
Crawley
Crawley
Crewe
Croydon(Whitgift)
Crystal Peaks Sheffield
Cwmbran
Dawson Street (Dublin)
Derby
Dewsbury
Didcot
Doncaster
Dorchester
Douglas
Dudley(Merry Hill)
Dudley(Merry Hill)
Dumfries
Dundee
Dundrum (Dublin)
Dunfermline
Durham
East Kilbride
Eastbourne
Eastleigh
Edinburgh
Edinburgh
Edinburgh(Cameron)
Edinburgh(Gyle)
Edinburgh Fort Kinnaird
Enniskillen
Evesham
Exeter
Exmouth
Falkirk
Fareham
Finchley
Fleet
Galway
Gateshead
Glasgow
Glasgow
Glasgow (Buchanan Galleries)
Glasgow(St Enoch)
Glasgow The Fort
Glenrothes
Gloucester
Grantham
Gravesend
Great Yarmouth
Greenock
Grimsby
Guildford
Halifax
Hanley
Harlow

Harrow
Hastings
Haverfordwest
Hemel Hempstead
Hereford
High Wycombe
Horsham
Huddersfield
Hull
Hull StStephens
Huntingdon
Ilkeston
Inverness
Ipswich
Irvine
Islington
Keighley
Kendal
Kensington
Kidderminster
Kings Lynn
Kingston
Kirkcaldy
Lakeside
Lakeside OOT
Lancaster
Leamington Spa
Leeds (Albion Street)
Leeds (White Rose)
Leeds Headrow Centre
Leicester
Lichfield
Limerick
Lincoln
Lincoln
Lisburn
Liverpool One
Livingston
Llandudno
LlanelliTrostre
London (Camden)
London (Oxford Street)
Londonderry
Loughborough
Lowestoft
Macclesfield
MahonPoint (Cork)
Maidstone
Manchester (Arndale Centre)
Manchester (Trafford Centre)
Manchester (Trafford)
Manchester Denton
Manchester The Fort
Mansfield
Mansfield
Merthyr Tydfil
Merthyr Tydfil
Metrocentre
Middlesbrough
Milton Keynes
Milton Keynes
Monaghan
MonksCross
Neath
Newbury
Newcastle
Newport
Newport (I.o.W.)
Newry
NewtonAbbot
Newtownards
Northampton
Norwich
Norwich
Nottingham (Listergate)
Nottingham (Victoria)
Nuneaton
Oldham
Omagh
Orpington
Oxford
Patrick Street (Cork)
Penzance
Perth
Peterborough
Peterborough
Plymouth

Plymouth (Drake Circus)
Poole
Portadown
Portsmouth
Preston
Preston
Reading
Reading
Redcar
Redditch
Redhill
Rhyl
Rochdale
Romford
Rugby
Salisbury
Scarborough
Scunthorpe
Sheffield
Sheffield (Meadowhall Centre)
Sheffield (Meadowhall Centre)
Shrewsbury
Silverburn
Slough
Solihull
South Shields
Southampton
Southampton
Southampton
Southend
Southport
Spalding
St Albans
StAustell
St Helens
Stafford
Staines
Stevenage
Stevenage
Stirling
Stockport
Stockton-on-Tees
Stratford
Stratford upon Avon
Sunderland
Sunderland
Sutton
SuttonColdfield
Swansea
Swansea The Pod
Swindon
Swindon
TalbotGreen
Tamworth
Taunton
Teeside
Telford
Telford
Torquay
Trowbridge
Truro
TunbridgeWells
Uxbridge
Wakefield
Walsall
Walthamstow
Wandsworth
Warrington
Washington
Welwyn Garden City
West Bromwich
West Thurrock
WestonSuper Mare
WestwoodCross
Weymouth
Wigan
Wimbledon
Winchester
Windsor
Witney
Woking
Wolverhampton
Wolverhampton
Woolwich

Worcester

So have you pre ordered Black Ops? Do you plan to go to the Midnight Release?
Administrator notice: Commenting is hereby disabled due to the flaming of other people's countries.

Bovell Talk | Contrib. 23:41, October 21, 2010 (UTC)
Ad blocker interference detected!
Wikia is a free-to-use site that makes money from advertising. We have a modified experience for viewers using ad blockers

Wikia is not accessible if you've made further modifications. Remove the custom ad blocker rule(s) and the page will load as expected.