November 4 2014 0:00 UTC
This message will be displayed if the timer does not show up (like if you do not have javascript enabled on your browser)
until
Call of Duty: Advanced Warfare is released!


Gameinformer have revealed their June magazine cover featuring Call of Duty: Advanced Warfare. The cover and more information from Gameinformer can be seen below:
"Activision has never been afraid to embrace the future with the Call of Duty franchise. When World War II fatigue set in, it reinvigorated the series and brought its timeline forward with the classic Modern Warfare. It allowed Treyarch the chance to get creative with the franchise, resulting in the well-received Black Ops games. When Infinity Ward wrapped up the Modern Warfare story arc after three entries, it started an entirely new universe with Ghosts. With a new generation of consoles upon us, it's time for the series to be brought forward once again. Developer Sledgehammer Games has a bold vision for the future of the franchise, in terms of both storyline and the brand as a whole.
Advanced Warfare is the newest universe in Call of Duty, and it begins in 2052. Former Dead Space developers Glen Schofield and Michael Condrey (along with their talented team at Sledgehammer Games) have carried out an exhaustive level of research on future weaponry and technology, attempting to make their solo debut as authentic as possible. They've consulted with the government, futurists, and scientists to ensure that Advanced Warfare is a realistic vision of our future rather than a lazy collection of robots and lasers.
Our June issue features 12 pages full of information about Sledgehammer's ambitious title, which is the first Call of Duty to benefit from the new three-year development cycle. We spoke with Schofield, Condrey, Activision CEO Eric Hirshberg, futurist Michael Belfiore, actor Kevin Spacey (who plays Jonathan Irons, head of the Atlas Corporation that is critical to the story), and more for the article, which details the origins of the game, its development, and an exclusive look at two distinctly different missions."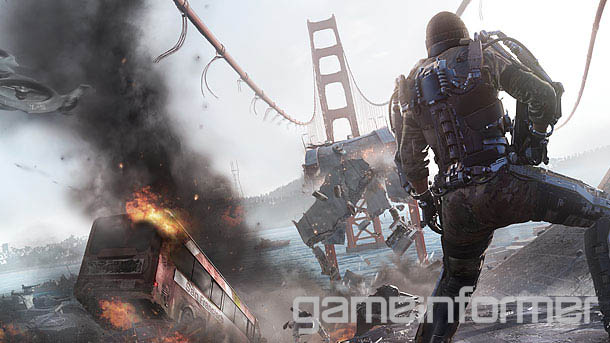 Ad blocker interference detected!
Wikia is a free-to-use site that makes money from advertising. We have a modified experience for viewers using ad blockers

Wikia is not accessible if you've made further modifications. Remove the custom ad blocker rule(s) and the page will load as expected.