Call Of Duty creators Infinity Ward appear to have admitted that this year's game, thought to be Modern Warfare 3, will not feature a new graphics engine
---
Infinity Ward creative strategist Robert Bowling has said that building a new engine for the Call of Duty franchise "would be counter productive".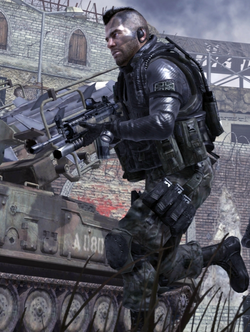 When it was put to him on Twitter that "someone just needs to spend the $ and construct a new engine for the CoD franchise... Ground up," Bowling replied: "That would be counter productive. An engine takes years and years to develop and get right."
He has later followed up saying: "I was speaking hypothetically and from a top-line philosophy that building a ground-up engine is counter productive. [I was] not referring to any specific project, simply clarifying with that user that we never - for any game - build a 'brand new' engine, but iterate on a solid base as you noted in your article, adding what's needed and innovates it.
The key point is the difference between inferring 'nothing new' and what we were actually discussing which was 'ground-up'. This is standard, as near every engine currently in use by us and other developers are iterations on their previous codebase."
His comments were made at the same time Battlefield 3's first gameplay trailer(Link to the trailer on Youtube) were released, which showed off DICE's impressive Frostbite 2 engine, described by Electronic Arts as "incredible technology that takes animation, destruction, lighting, scale and audio to new heights".
All of the Call of Duty games since Call of Duty 2 have run on the Infinity Ward engine, which has been modified for each iteration of the series, and it sounds like it's going to be no different when the next CoD title releases.
What do you think of this? Do you think IW should take a couple of years out to try to improve its engine? Let us know in the comments section below!
---
Ad blocker interference detected!
Wikia is a free-to-use site that makes money from advertising. We have a modified experience for viewers using ad blockers

Wikia is not accessible if you've made further modifications. Remove the custom ad blocker rule(s) and the page will load as expected.