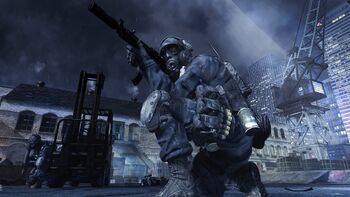 Bobby Kotick told Reuters that although he couldn't disclose the number of pre-orders for Modern Warfare 3, it is "meaningfully different" to those for last year's Call of Duty: Black Ops. He then added:
"It's sort of surprising because you always go into the launch of a new Call of Duty game with an expectation that ... it's a hard number to beat, but if you look at the player enthusiasm for Modern Warfare 3, I don't know if we've really seen anything like it in our 21-year history."
Retailer GAME said last month that it expects MW3 to break all UK pre-order records and become the firm's bestselling title ever.
---

It was also confirmed that Modern Warfare 3 is to be released on Nintendo DS and will be developed by n-Space. This news comes a week after it was revealed that Modern Warfare 3 will be released on Wii. Activision social media manager Dan Amrich said:
"They've [n-Space] done the handheld editions of Call of Duty 4, Modern Warfare 2, Black Ops, and World at War, among many other DS games. So, the DS version is in expert hands."
Ad blocker interference detected!
Wikia is a free-to-use site that makes money from advertising. We have a modified experience for viewers using ad blockers

Wikia is not accessible if you've made further modifications. Remove the custom ad blocker rule(s) and the page will load as expected.