As you know earlier this week we reported on a new Black Ops map pack going by the name "Escalation". Well now it has been officially announced with minor details of each map.
---
The second downloadable content pack for Call of Duty: Black Ops, contains 5 all-new maps; featuring 4 Multiplayer maps and an epic Zombies experience with all-new playable characters.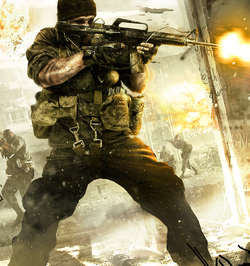 Battle it out in Hotel, on the roof of a Cuban luxury hotel and casino against the vivid backdrop of old Havana.


Convoy delivers intense, close-quarters combat at the scene of an ambushed US military convoy.

Zoo takes you on a wild ride in an abandoned Soviet Russian Zoo, with danger at every turn.

Stockpile pits players in a remote Russian farm town housing secret WMD facilities.

For Zombies fans, "Escalation" features a unique Zombies experience. The new Zombies map, Call of The Dead, is a very special creation for all Zombies fans.

Additionally, to celebrate the upcoming release, there will be a Black Ops Double XP weekend beginning Friday, May 6th.
---
So are you going to buy "Escalation"? What do you think of the new maps? Let us know in the comments!
---
Ad blocker interference detected!
Wikia is a free-to-use site that makes money from advertising. We have a modified experience for viewers using ad blockers

Wikia is not accessible if you've made further modifications. Remove the custom ad blocker rule(s) and the page will load as expected.