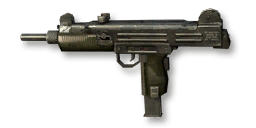 "Uzi nou or GTFO"
— Kratos
Hello ponies and bros, welcome to this weeks edition of the Gun Review of the Week! I put up a poll in my last blog to see what gun you all wanted me to do next and the Uzi won by a longshot. The Uzi was nomitated multiple times by by this dude and you guys voted for it so...this week I'll bring you the BO version and the MW2 versions of the Uzi.
First the BO version.
Uzi
PROS
Extreme rate of fire
Somewhat low unlock level
Great Range and Accuracy for a submachine gun
Low reload time
Perfect sized magazine
Good range of attachments
Highly mobile
CONS
Really bad recoil
Highly unfavored by players
Shit Iron sights
Very low penetration
Lower damage compared to other SMG's (giving them a slight upperhand)
So the Uzi did pretty good in the BO portion of this review. So now we go to the

scale where it gets a solid 8.0/10.
Now MW2's Mini-uzi.
Mini-uzi
PROS
Once again has a awesome rate of fire
Good sized magazine
Decent range and accurracy
Of course its mobile(its a SMG of course)
Quick reload
Lower recoil then the fullsized
CONS
High unlock level
Low penetration
Ineffective attachments
Weak gun, gun has low damage
Unfavored compared to UMP45 and P90
Well the Mini-Uzi gets a lower score on the

scale at a 7.6/10
Well hope you all enjoyed leave your comments and primary gun suggestions as alwayas I really love to get them. So give me what you want to see next week and tell me how I did. Shout out to my buddy AR he recently launched his own review series if you havent seen it here it is you guys can expect alot more of this good stuff in the future *wink* *wink*. Also shout out to Sactage as it looks he will soon become a 'crat.
If you missed any past reviews check'em out here http://callofduty.wikia.com/wiki/User_blog:Redskin-26
NO Secondary review this thursday I'm going to give the series a one week breather (secondary series), so leave your primary suggestions and I'll see you all next saturday. :)
Peace out.