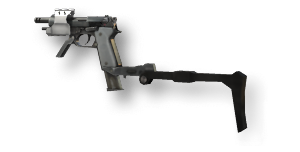 Hello friends, anons and others and welcome to the Secondary Gun Review of the Week! Firstly I would like to thank all of you for all the spam I got on my talk page, saying things like "What waste of 9 months you were" and "Birthday? You hath one?" It really shows how much you all like me ;). This week I got LOTS of primary gun nominations and ZERO secondary nominations, so I had to go look at past blogs for suggestions, and so we have Nyx's suggestion, of the M93 Raffica, for todays blog! Lets get down too it!
M93 Raffica
PROS
Great range,
Most likely the most accurate secondary
Good damage
Speedy reload
High power, Low recoil (Awesome combo)
Very effecitve with Akimbo
CONS
Iron sights are shit
Can be at a disadvantage with the 3-burst
Other attachments (other then akimbo) are terrible with the M93
If the player misses there first shot at CQC, they will die
Underused
Well the Raffica's do fairly well on the
Scale with a 8/10.
Well hope you all enjoyed, I have noticed a decrease in views of these blogs so if you read, PLEASE comment. New Primary Gun Review of the Week on Saturday, I already have decided what gun I will do (you guys left me lots of good suggestions) so dont leave primary suggestions, leave me some Secondary suggestions.
Ok I hope you all enjoyed, so now here alittle present, a Pokemon related gif!!! (TROLLTOISE USED TROLL!)
Peace out homies :) -Squirtle
Ad blocker interference detected!
Wikia is a free-to-use site that makes money from advertising. We have a modified experience for viewers using ad blockers

Wikia is not accessible if you've made further modifications. Remove the custom ad blocker rule(s) and the page will load as expected.