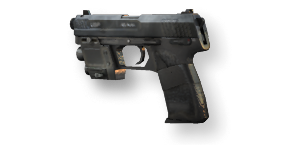 Hi friends, anons and anyone who doesnt fall in one of those categories. Hope you guys are ready for the third edition of the Seconadary Gun review of the Week. Cause here it comes, by popular demand I give you....THE USP. 45. This week we will only review the MW2 version, mostly because im being a depressed shit this week, but it happens. But either way here it comes the MW2's USP. 45.
USP. 45
PROS
Reasonably Accurate (down sights)
Low Recoil (alwayas nice)
Decent Magazine Size
Good range for a pistol
Has good attachments, cant think of one that isnt decent
Good Reload time
Unlocked at level 4
CONS
Not very powerful
Terrible penetration (without FMJ)
Stands no chance against a M4 or Spas-12
(I know this is alittle contridicting) But the silencer weakens a already weak gun
Low Hip-fire accuracy
I use the USP. 45 a decent amount of time in MW2 and happen to think it is a decent gun but has its flaws. The USP gets a 8.3 on the Squirtle Scale. Anyway hope you all enjoyed. Leave your comments on the review and please if you read this comment cause Comments=Success when it comes to blogs. Also leave your suggestions for what secondary you want to see next, I will eventually get to it, I get lots of suggestions so please just keep leaving what you want to see ;D Saturday I will post a Special edition of the gun review of the week so look out for that.
I had a extremely large amount of requests of USP but I think the orginal nominator was The Corporal, some other people who also nominated the USP, Asauce360, Tr0 and others had mentioned it as well. Hope you all liked and will tune in next time. Thank you all friends and have a nice day/week/month/year/decade/century. :)
Another thing
Just alittle of topic thing, I recently lost a dear friend and would just like to advise you all to always tell the ones you love that you care about them while you have the chance, cause one day you may wake up and they be gone forever.
Ad blocker interference detected!
Wikia is a free-to-use site that makes money from advertising. We have a modified experience for viewers using ad blockers

Wikia is not accessible if you've made further modifications. Remove the custom ad blocker rule(s) and the page will load as expected.