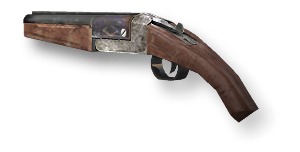 Well HELLO!!!!. Its me Redskin and I recently launched new blog series where I will review a gun a week and it seems to be a success so I will continue with it (next one probely will be saturday) BUT. I decided why descriminate against Secondary weapons so as well as the Gun review of the week, every thursday of friday I will do the Secondary gun of the week so. YOU ARE ALL IN FOR A TREAT FRIENDS. This week (first edition) we will review MW2's Ranger.
Pros
Great damage ratio
Awesome as a dual wield weapon
High Mobility
Unlocked at a resonable level
Medium recoil
Cons
2 shots
VERY LOW RANGE
Unattractive to use as a solo gun (preferred with Akimbo)
As you can see the
Ranger is
a good secondary and I give it a 9/10 on what I am going to call the Squirtle Scale. So the Ranger is a good weapon to have with Akimbo do to sure power and its high moblilty. Please leave your comments on my rating. Also give me suggestions for which secondary to do next. New regular gun review of the week will be posted tomorrow or Sunday. :D happy hunting comrades, and have a Squirtle Shades cool day.
Special thanks to This guy for cleaning up my last blog post.
Ad blocker interference detected!
Wikia is a free-to-use site that makes money from advertising. We have a modified experience for viewers using ad blockers

Wikia is not accessible if you've made further modifications. Remove the custom ad blocker rule(s) and the page will load as expected.