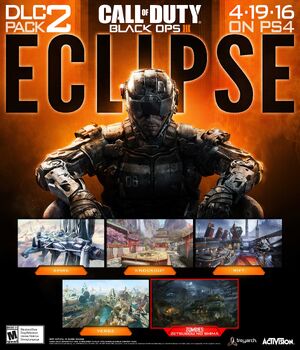 Since no one seems to have made a blog on this, I decided I'd spread the word. I know, I'm not on the News Team. dnt cmplain pls m8
Anyway, Activision revealed the name and content of the second Map Pack for Call of Duty: Black Ops III yesterday. Although there is no trailer, there is a trailer for the Zombies map which shows the intro for the map:
Now, here is the official descriptions for each of the maps:
Multiplayer:
Zombies:
Zetsubou No Shima: Eclipse also sets the stage for Zetsubou No Shima, the highly-anticipated, all-new entry in the Call of Duty: Black Ops III Zombies storyline that spans the four DLC Map Packs for Black Ops III this year. The Origins characters continue on their mission to stop the zombie apocalypse not only in this universe but in all universes. Our heroes find themselves stranded on a remote Pacific island which is home to the Division 9 facility: a secret biological research lab whose experiments with Element 115 and its effects on human, animal, and plant biology has created horrors beyond belief. Zetsubou No Shima features a foliage rich island map including new terrifying zombie enemies, a variety of innovative transport mechanics, more devastating traps and classic Zombies side quests.
Sources: Call of Duty's official website, CharlieINTEL
Ad blocker interference detected!
Wikia is a free-to-use site that makes money from advertising. We have a modified experience for viewers using ad blockers

Wikia is not accessible if you've made further modifications. Remove the custom ad blocker rule(s) and the page will load as expected.