Hey guys this is my review of the ACR I hope you all enjoy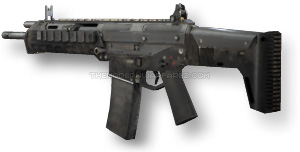 Overall a perfect rifle, good with all attachments. Very easy to get penatration kills with FMJ. Excellent long range weapon with Thermal Scope. Perfect run and gun weapon with Stopping Power. Very popular online. Has little to no recoil and very accurate.
Pros.
1. Very Accurate
2. Good rate of fire
3. Easy penatration
Cons.
1. Somewhat low damage
So yeah I hope you all liked the review and I honestly dont know what I want to do for my next review. I want you guys to tell me want you want the review to be of. Thanks
Ad blocker interference detected!
Wikia is a free-to-use site that makes money from advertising. We have a modified experience for viewers using ad blockers

Wikia is not accessible if you've made further modifications. Remove the custom ad blocker rule(s) and the page will load as expected.