Hey guys now its time for a review of the Glock 18 from MW2.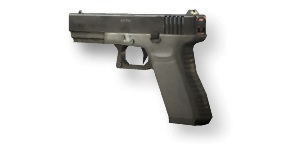 This is a wonderful sidearm. Akimbo G18s will give you an 8 out of 10 chance of winning in CQB. With Extended Mags you will almost never have to reload. Scavenger is greatly needed as the high rate of fire goes through ammo like nobodys buisness.
Pros.
1. Good for CQB.
2. Excellent sidearm for running and gunning and snipers.
3. Large Magazine.
Cons.
1. Greatly needs Scavenger.
2. Somewhat weak.
3. What the heck there is no third.
Anyway yeah please comment and next review will be M16A4.
Ad blocker interference detected!
Wikia is a free-to-use site that makes money from advertising. We have a modified experience for viewers using ad blockers

Wikia is not accessible if you've made further modifications. Remove the custom ad blocker rule(s) and the page will load as expected.