Hey guys,its the fanatic roleplayer,SANDVICH! Just dont nom me like the others. Anyway lets get to the point...
First of is the M4A1. Its very popular. I think its a great starter.
And the FAMAS...Worst fail in the world but anyway...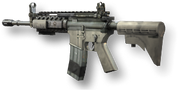 Lets see the M4A1
PROS
Good damage and reasonable rate of fire.
Very clear iron sight,no need of a sight.
VERY effective with FMG along with Stopping Power.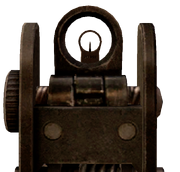 CONS

Damage dropoff is HUGE at range
Its the ONLY weapon in MW2 that,when attached with a silencer,won't drop range,but damage

Now is the FAMAS...I HATE BURST FIRE!!!
PROS

CONS
Burst fire
Due to it,you will get pwned at close range
Thats enough for the day,vote for the next review! Bye!
Ad blocker interference detected!
Wikia is a free-to-use site that makes money from advertising. We have a modified experience for viewers using ad blockers

Wikia is not accessible if you've made further modifications. Remove the custom ad blocker rule(s) and the page will load as expected.