NOTE: Commenting has been disabled (again) because people seem to make premature assumptions and not read the article. To repeat what has been said before Call of Duty ELITE is free, but you can pay for extra features. --N7 Talk 11:52, June 1, 2011 (UTC)

---
NOTE: Call of Duty ELITE is a free service. Only for certain features will there be a charge, but the majority of the service is free. You can register for its closed Beta test, here. To take part, you need to be eighteen or older, so lie

---
Many of us already believe that $60 (£45) is already enough for a Call of Duty game. According to The Wall Street Journal, however, it sounds as if Bobby Kotick is wanting to push that even further.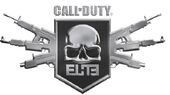 In a move industry executives describe as a first, Activision plans to charge a monthly subscription fee for additional features of Call of Duty ELITE, which will provide extra content that isn't offered on game discs sold in stores, including downloadable map packs that give players new Call of Duty levels to play. The service will be available free of charge for Call of Duty: Black Ops and Call of Duty: Modern Warfare 3.
Activision executives said they haven't yet figured out how much to charge for additional features of the service, or whether or not the service will be done either with Micro transactions or as a monthly subscription, but it can be assumed that the price will be less than services such as World of Warcraft and Netflix.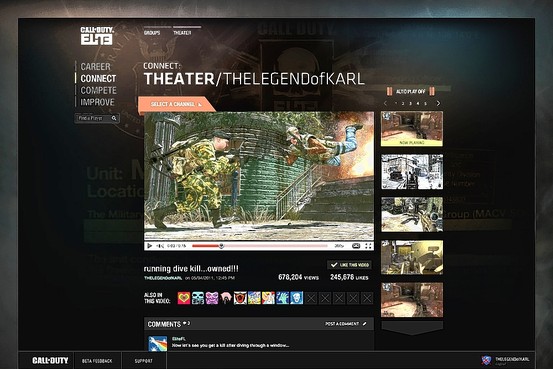 Activision is rolling out Call of Duty ELITE for all players to use. It will come with both free and paid-for options, with the functionality on offer for free users limited based on which you choose to use. The free version of CODE is expected to focus on social aspects rather than content and stats.
According to the above screenshot, theater mode is to make a return; for those who look close enough, looks to be making a return only in 360p for all those without a HDVR. Since some services are free, this could be an indication that subscribers might get better upload quality on their videos. Call of Duty ELITE will also feature statistics, similar to those currently available in one's "Playercard" in Black Ops.
In an interview, Activision CEO Bobby Kotick said he isn't worried about pushback from gamers about the Call of Duty ELITE fee because players will still be able to compete against each other online without subscribing to the service. Mr. Kotick said Call of Duty ELITE, and the customer-service operation that will be needed to support it, wouldn't be possible if everything in the service was free. "This is an enormous investment," he said.
"There's money to be made there."
— Rob Dyer, senior vice president of publisher relations at Sony's U.S. games division.
Jamie Berger, Activision's vice president of digital content for Call of Duty, said the company has about seven million daily players of the game who spend, on average, about seven full days a year playing the game against others online. Players often use headsets to communicate with, and swear at, other online gamers. If even a small percentage were to buy into the service, it should bring in a tidy sum of money for the company.
So what will we see in Call of Duty: ELITE? We should be expecting to see the following:
In-depth facts for studying past match strategies
The ability to create official groups and clans
Stats similar to that of the playercard
Aspects of the service will be available on game consoles, PCs and mobile devices, including smartphones and Apple's iPad. A trailer has also been released for Call of Duty ELITE showcasing the features of it and some Modern Warfare 3 gameplay.
So will you be paying up for the extra features of the service, or do you already think we're paying too much for Call of Duty games as it stands? Leave a comment below saying how you feel, and don't panic; even without a subscription you'll still be able to play multiplayer with ease.
Sources
Ad blocker interference detected!
Wikia is a free-to-use site that makes money from advertising. We have a modified experience for viewers using ad blockers

Wikia is not accessible if you've made further modifications. Remove the custom ad blocker rule(s) and the page will load as expected.