Want to unlock the best guns before everyone else in Call of Duty: Modern Warfare 3 to get that edge? Well if you do want to take advantage of a never-ending stream of double XP, you may wish to consider purchasing some Mountain Dew. The two "Game Fuel" flavors are coming back, and in a unique promotion with Activision, purchasing a bottle will give you access to double experience time, just like any other double XP weekend.[1]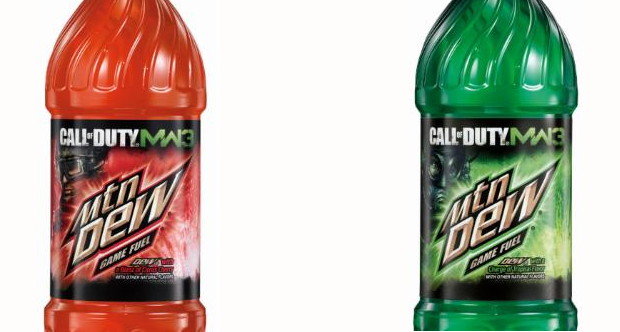 Tortilla chip maker Doritos and drinks manufacturer Mountain Dew are to both give away codes enabling short periods of XP to be gained at double the normal rate.
"For many of our gamers, Call of Duty and Mountain Dew go hand in hand, and together we wanted to deliver gamers a one-of-a-kind program around the epic Modern Warfare 3 multiplayer."
— Tim Ellis, Activision's chief marketing officer
The "Rank Up Your Game with Double XP" promotion will begin in October 10th, giving fans a chance to stock up on codes before the game's November launch. There will be two varieties of Game Fuel; one, cherry-citrus, was also sold in 2009 whilst the other is a brand new, tropical flavor, co-developed with Activision to promote the new video game.
However, for those of us who don't like Mountain Dew's taste or strange colour, there is a lucky alternative; the XP promotion also extends to Doritos tortilla chips, through the "Power of One" program.[2]
This isn't the first time this year that a drinks company has given away free in-game content with their products; earlier this year 7-Eleven offered exclusive downloadable content for Sony's Killzone 3 and LittleBigPlanet 2 titles in exchange for Slurpee purchases in stores in the U.S.
---
References
---
Ad blocker interference detected!
Wikia is a free-to-use site that makes money from advertising. We have a modified experience for viewers using ad blockers

Wikia is not accessible if you've made further modifications. Remove the custom ad blocker rule(s) and the page will load as expected.