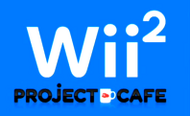 According to Game Informer and Kotaku, Nintendo is expected to unveil a new HD next generation console, aptly titled Wii 2 for the time being. The new console is said to be able to run graphics around the level of the Xbox 360's and Playstation 3's and is most likely to be announced at the 2011 Electronic Entertainment Expo.[1]
"Nintendo is doing this one right. [It's] not a gimmick like the Wii."
— Anonymous source.[2]
This seems to go hand in hand with Nintendo dropping the price of the Wii on May 15th, which has suffered declining sales in previous years due to a low choice of games, poor graphics and a lack of any meaningful memory storage.
The idea of adding HD is almost a necessity for Nintendo as third party developers, such as Infinity Ward, don't port the game over to the Wii; Call of Duty: Modern Warfare: Reflex Edition was ported to the Wii by Treyarch. Nintendo president Satoru Iwata himself acknowledged, "We need to decrease the concern that only Nintendo software can sell well on Nintendo platforms and third-party software cannot sell in the same volume. We feel a need to have closer ties with our third-party developers from the beginning," which was a common problem seen by the Wii.
Backward compatibility is currently uncertain as is the software its controllers will use; if Nintendo are taking notes for this then the controller should be similar to the Playstation Move controller.
Furthermore, a non-motion controller is said to be released with a 6'' touchscreen located in the controller, allowing the user to take the game with them, for example, taking the game to the toilet in the middle of an important game.[3]
Despite all the speculation, however there has been no official comment yet on the unveiling or launch of the Nintendo Wii 2.
Sources
---
Notice - Any general fanboyism will be removed. Smuff[citation provided] 16:08, April 15, 2011 (UTC)
Ad blocker interference detected!
Wikia is a free-to-use site that makes money from advertising. We have a modified experience for viewers using ad blockers

Wikia is not accessible if you've made further modifications. Remove the custom ad blocker rule(s) and the page will load as expected.