The upcoming rumours for a WWII game this year can now be confirmed as official, as the official site has been put up, which can be seen here. Quite a lot of information has been released so far on the website/Twitter.
The worldwide reveal livestream will be on the April 26th, at 18:00 BST/10:00 PDT /13:00 EDT/17:00 UTC.
Game Info
The following is leaked marketing material describing the game in detail (kudos to Victor of Charlie Intel for transcribing it):
Game Description: Call of Duty returns to its roots with Call of Duty: WWII–a breathtaking experience that redefines World War II for a new gaming generation. Land in Normandy on D-Day and battle across Europe through iconic locations in history's most monumental war. Experience classic Call of Duty combat, the bonds of camaraderie, and the unforgiving nature of war against a global power throwing the world into tyranny.
Campaign Description: Call of Duty: WWII tells the story of an unbreakable brotherhood of common men fighting to preserve freedom in a world on the brink of tyranny. Players enlist in a gritty intense journey through the battlegrounds of war. The campaign features bold, lifelike visuals with the kind of blockbuster cinematic authenticity that only Call of Duty can deliver.
Multiplayer Description: Call of Duty: WWII multiplayer engages players grounded, fast-paced combat across many of World War II's most iconic locations. Players will also enjoy exciting new ways to interact and socialize with their friends and the Call of Duty community.
High-Octane Co-Operative: Call of Duty: WWII's co-operative mode unleashes a new and original story. Play with your friends in this next-level standalone game experience full of unexpected, adrenaline-pumping moments.
Additionally, there will be a "Private Beta" for those who preorder the game.
A teaser trailer was released on Instragram and YouTube: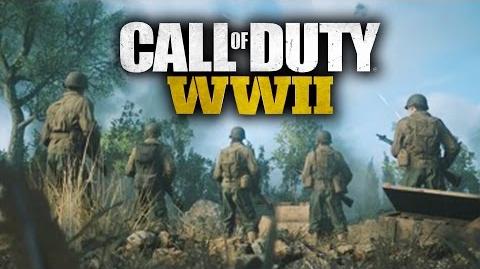 In-Game Images
When the website went live, a number of in-game images were revealed:
Actors
Jason Duhamel, an actor most famous for his role in the Transformers series, could be appearing in the game, as he looks very similar in appearance to a character in one of the in-game screenshots. Furthermore, he posted a month ago on Twitter an image of himself in a mo-cap suit, and very recently started following the Call of Duty official Twitter:
---
Credits to CaptainReyes for sharing link and Capt. Miller for updating the blog.
---
Ad blocker interference detected!
Wikia is a free-to-use site that makes money from advertising. We have a modified experience for viewers using ad blockers

Wikia is not accessible if you've made further modifications. Remove the custom ad blocker rule(s) and the page will load as expected.