The trailer for the 4th and final DLC of Advanced Warfare, Reckoning, has been released.
It will release on August 4th on Xbox Live, with other consoles to follow. This also marks the end of Xbox and Activision's partnership of getting the DLC content first.
"Get a preview of Reckoning, the final DLC pack for Call of Duty: Advanced Warfare. Reckoning includes the culmination of the Exo Zombies saga with Descent, as our heroes unravel the true cause of the global pandemic and the terrible secret that Atlas has been hiding. Also included are four exo grapple-enabled Multiplayer maps: Fracture, Overload, Quarantine, and Swarm. Take down your enemies in this globe-spanning collection that's filled with all-new map interactions and scorestreaks.

Reckoning releases August 4th on Xbox Live, with other platforms to follow."
— Official YouTube Video Description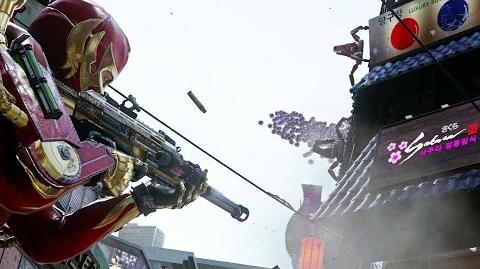 Thanks to RainingPain17 for uploading the video
Ad blocker interference detected!
Wikia is a free-to-use site that makes money from advertising. We have a modified experience for viewers using ad blockers

Wikia is not accessible if you've made further modifications. Remove the custom ad blocker rule(s) and the page will load as expected.