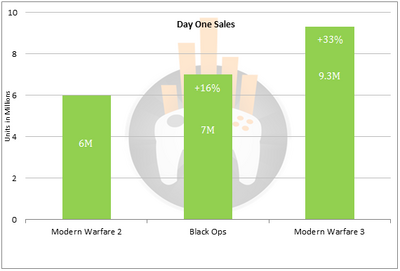 VGChartz reports that
Call of Duty: Modern Warfare 3
has broken the record previously set by
Call of Duty: Black Ops
for the most sales in a single day with 9.3 million copies. The game also set the record for being the first game to sell 5 million copies for a single console (Xbox 360) in one day. The game is projected to sell somewhere between 12 to 13.5 million copies in its first week. With these sales figures, it would push the total number of
Call of Duty
games in this generation to over 100 million copies sold.
For the whole story, head over to VGCharts.com or follow the link right here. Did you buy the game on release day? Let us know what you think of it in the comments!

---
Ad blocker interference detected!
Wikia is a free-to-use site that makes money from advertising. We have a modified experience for viewers using ad blockers

Wikia is not accessible if you've made further modifications. Remove the custom ad blocker rule(s) and the page will load as expected.