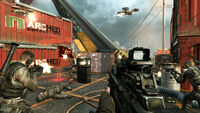 I will admit that when it comes to the Call of Duty (series), I have always favored the multiplayer mode over anything that the single-player campaigns can offer. For this reason alone, I have spent the majority of my time since getting my copy of Black Ops II playing multiplayer. Now that many of us have spent hours playing this mode, I thought I would see what everyone else thinks of it.
Favorite Mode
I admit to being rather boring and bland when it comes to my game mode of choice. I am a very traditionalist as I tend to find myself playing more of Team Deathmatch than anything else. Beyond that, the only other mode I really find myself playing is Headquarters. Which modes are you finding the most interesting?
Favorite Maps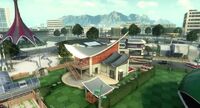 The multiplayer mode contains fifteen different maps if you include Nuketown 2025. My personal favorite map is Hijacked, I absolutely love the close-combat of this level. It is the perfect map for using weapons like shotguns or other side arms.
Scorestreaks
A lot has been made over the switch from Killstreaks to the new Scorestreak system. There is a wide variety of Scorestreaks that can be used. However, we want to know which ones are your favorites and which ones you are using in your custom classes. For me, I tend to use the basics - UAV, Counter-UAV, and Lightning Strike.
Other Thoughts
We are also looking for any other thoughts or opinions that you guys have towards the multiplayer mode in Black Ops II. Please share with us what you like, what you dislike, what you thought was improved on or even what are the favorite user names you've come across in your multiplayer journeys (for the record mine is ShartingWombat).