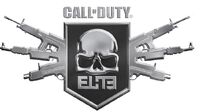 Excited to play Call of Duty ELITE? Then there is good news for you. It appears that Activision has begun to roll out the beta version of COD: Elite for Playstation 3 players. However, most of these invites have gone to people who have been previously signed up for the beta and there is no guarantee that you currently have an invite.
Not sure what Call of Duty ELITE features? The game has video sharing, stat tracks, special events, and custom groups. Hopefully you are one of the select who is able to get into the beta and share some information with us on here.
Source
Ad blocker interference detected!
Wikia is a free-to-use site that makes money from advertising. We have a modified experience for viewers using ad blockers

Wikia is not accessible if you've made further modifications. Remove the custom ad blocker rule(s) and the page will load as expected.