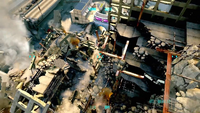 After finally receiving Black Ops II and playing through the Single Player Levels of the campaign, I couldn't help but find myself questioning what are the best moments of the story. Then, I began to think that while I have my own personal favorite moments, what is everybody else enjoying? For that reason, I am asking members of this community to submit and share their favorite moments from the single-player campaign. What shocked you the most? What levels were your favorite?
Please share with us your favorite moments of this game, and we will do our best to compile a consensus list of best Black Ops II moments in a few days. As always, feel free to include spoilers, but be aware to read them at your own risk.
Ad blocker interference detected!
Wikia is a free-to-use site that makes money from advertising. We have a modified experience for viewers using ad blockers

Wikia is not accessible if you've made further modifications. Remove the custom ad blocker rule(s) and the page will load as expected.