Greetings comrade!
Edit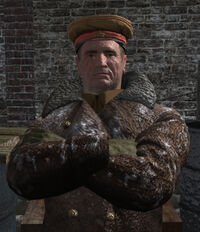 Welcome to the Call of Duty Wiki comrade! There's a lot to do around here, so I hope you'll stay with us and make many more improvements.
I'm really happy to have you here comrade, and look forward to contributing with you!
M4A1 & M249 sights
Edit
Yes, I have played Call of Duty 4. The only similarity between the M249 rear sight and the ARMS 40L on MW2's M4 is that the apertures are circular, a similarity consequently shared by pretty much every iron gun sight in the world. See for yourself. M249 rear sight: [1] MW2 M4A1 sight: [2] They couldn't be any more different. Ghost Leader 23:43, November 19, 2009 (UTC)
In that regard, there's no particular difference between any type of sight(s) whether in-game or in real life, considering their purpose is to do pretty much the same thing. But speaking technically, the ARMS 40L has much more in common with the standard A2 carry handle sight than it does the M249 rear sight. Ghost Leader 23:58, November 19, 2009 (UTC)
Console articles are up for deletion
Edit
http://callofduty.wikia.com/wiki/AFD#Game_Consoles
Challenging Den Kirson
Edit
Not that I have a problem with that, but with all due respect we have more of a reason to trust him than anyone else. If you think you know something he doesn't I would be extremely appreciative if you were to draw attention to the disparities on his forums. If you are correct, he will change his charts and your new info will be on the wiki. If not, then things will remain the same. Imrlybord7 16:56, September 22, 2010 (UTC)
Your Signiture
Edit
Hey, I noticed something about your sig. It's too big, signitures should be no larger than 30px as any larger will break up text. To make it smaller, add |30px to the image. Thanks,

The Smuff 18:58, September 30, 2010 (UTC)
A little reminder...
Edit
Leaving messages such as, "You fail at editing." (Directed at sogm) in edit summaries is a big no no. Smuff [The cake is a lie.]
16:13, November 1, 2010 (UTC)
Re:Opinion
Edit
I've never experienced anything like that. The firecap for the M1 garand is 444rpm, I accept that. Whenever I used it i never came across any sort of firecap reduction by spamming the trigger. If you provide hard proof that it exists then of course you can add it to the article, however if you don't it doesn't go on. --Callofduty4 18:37, November 3, 2010 (UTC)
No. We have too much MW2 articles already featured. Thats what I was trying to point out. --

Soldier 18:29, November 12, 2010 (UTC)
RE: Waht.
Edit
LOL. I just forgot to put "Modern Warfare 2" preceding "weapons." I'll change it accordingly. :) -- CoD addict (talk · edits) 01:53, December 1, 2010 (UTC)
Re:Profile picture
Edit
Haha, thanks :)  

  13:38, January 9, 2011 (UTC)
Don't delete discussions
Edit
Hello, ArcboundMyr. It has come to my attention that you have recently deleted part or all of the text on a talk page, that was not vandalism. This is a violation of one the policies on the wiki, seen here, in which you can not delete discussions from a talk page with exception of obvious vandalism, flaming, or spam. If you would like to archive your talk page, please ask an administrator. If you continue to delete discussions off talk pages, you will eventually be subject to a block. Thank you for understanding, have a nice day!
Your paranoia attack subsides, I see a bright future for everyone, just bring up a tad bit the style of your edits, and you can go far in this wiki. I myself have only been on this wiki about 4 months and my hard work has made me and this wiki a whole lot better. I'm looking forward to seeing your future edits, and if you ever need help feel free to ask me anything.The Wikia Contributor T | C | E | Q00:56, October 21, 2011 (UTC)