Welcome to the 141
Edit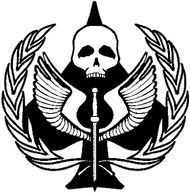 Best handpicked group of editors on the planet. Glad to have you aboard at the Call of Duty Wiki, so here's the briefing on how you can help:
Recent changes is a great first stop, because you can see what other people are editing right this minute, and where you can help.
Read our policies, if you haven't already. You'll be informed on the do's and do not's, as well as some guidelines when creating new articles.
The Sandbox is a great place to test things out if this is your first time editing wikis. It is advisable to know what is commonplace on the wiki, such as templates and categories, and how to use them.
Questions? You can ask at the Help desk, the "discussion" page associated with each article, or browse through the help directory. Feel free as well to ask on my talk page; we take care of our friends, recruit!
Have feedback? The War Room is used to discuss changes to wiki or other community related issues. You'll need 50 main space edits to vote, recruit, but your opinion is still appreciated!
I hope you enjoy editing on the wiki recruit! This is Shepherd, out.
-- --DARTH SIDIOUS 2 (Contact) 18:49, October 28, 2010 (UTC)
Hi there.
Edit
I will keep it short. The only way to save fast food is to save George Harrison and kill Justin Biebers parents , therefore saving Rock music and the Fast food industry.(somehow)

Quick to my time machine De Lorean ! White808 03:48, December 29, 2010 (UTC)
no that's different. it's sniping. camping is sitting in a corner with any other weapon and probably with ghost and claymores while aiming down the sights laying down. if you cant tell i hate campers Nick42294 04:00, January 21, 2011 (UTC)
Becuase while fun to some who are alcoholic showoffs, it ruins the game for a far greater number of people. And I would LOVE for someone to rant to me about something I think is fun, because what I find fun is not exactly a game-ruining tactic. (IE: I use the Grenade Launcher sparingly, only when a group of enemies are together) And if someone says it IS, then I can rant right back to them about how it isn't. Bumblebeeprime09 Talk 21:26, March 3, 2011 (UTC)
Quickscopers annoy me because sniper rifles were built for a reason. They were made to provide support at range. They were made to have extreme accuracy and pack a punch at the same time, so one could pick off targets far away with ease. And there are SMGs, LMGs, ARs, and Shotguns in there for a reason. TO USE AT CLOSER RANGES. And I expect each and every weapon to be used properly. So these people who could simply use the right weapon for the job instead go ahead and quickscope with a stupid bolt-action rifle, which should be shooting people from an even further distance than the distance that most semi-auto snipers shoot from. And yet in the game you are apparently a 'H4rDsk0p1nG No0B' for actually sniping. This means that snipers in real life are 'H4rDsk0p1nG No0Bs'. There is something deeply wrong with that. Bumblebeeprime09 Talk 22:11, March 3, 2011 (UTC)
Recent News Post
Edit
I read your comment, accept your apology, and offer you one of my own. I'm sorry if that debate turned into more of a childish argument than anything else. Sincerely, C0N71NG3NCY 19:46, May 30, 2011 (UTC)
Community Black Ops Event
Edit
Hi! I'm Sactage, an administrator here, and one of the group leaders on the PlayStation3 for the Wiki's upcoming Community Black Ops event, this Saturday, August 27, at 18:00 UTC. You're in my playing group, group 2, along with 4-6 other players. I've sent you a friend request over the PlayStation Network using my account, sactage, so you may participate in the event. If you have any questions, comments, or concerncs, feel free to email me through the wiki, send me an email directly at sactage@gmail.com, or leave a message on my talk page. I look forward to playing with you! -- sactage (talk) 17:46, August 22, 2011 (UTC)
Would you mind being the back-up leader until Sactage arrives (he says he's going to be a little late)?

Bovell Talk | Contrib. 16:37, August 27, 2011 (UTC)