Welcome to the team

Edit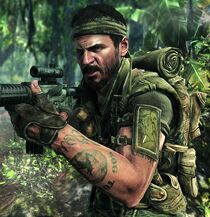 Greetings from SOG, recruit. We're happy to have you aboard at the Call of Duty Wiki, so here's a briefing on how you can help:
I look forward to having you here, my friend! It is always good to have another soldier on the front lines of editing!
No Voice
Edit
Hello! We are happy to hear that you are attending the next Codference! Unfortunately you only have 69 mainspace edits, whereas 50 is needed to be able to speak in the Codference. You are still free to come and spectate but you will be unable to speak until you get 50 or more mainspace edits. Please contact an administrator once you have 50 mainspace edits so you will be able to speak. Thank you.
I would just like to point out that the P99 isn't Bond's signature handgun. The PPK is. The fact is also irrelevant on the Call of Duty wiki.
Raven's wing Talk11:11, September 5, 2011 (UTC)
No Real Life Info
Edit
Hi, and welcome to the Call of Duty Wiki! There's a lot to do around here.
We really appreciate your contributions here, but we have a no IRL, or no "In Real Life" policy. IRL pictures are also not allowed in articles but they are allowed for personal use.
If you have any concerns feel free to ask at the Help desk or on the "discussion" page associated with each article, or post a message on my talk page! Also, please review our policies so that you understand them completely to avoid any future mistakes.
If you have any other questions, feel free to contact an administrator for help. Sysops names are represented in green and bureaucrats names are represented in cyan. Please leave a message on my talk page if I can help with anything!
Raven's wing

Talk

11:01, December 1, 2011 (UTC)