I'm here to say that i believe that you hear Soap talk during most missions. You can hear him saying things like "Tango down." or "Enemy down" in a voice that is not like any of his teammates.
Also if you turn on the Captions it doesn't appear on the screen.
Greetings comrade!
Edit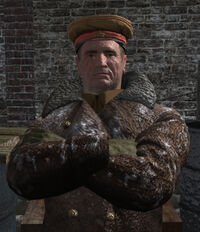 Welcome to the Call of Duty Wiki comrade! There's a lot to do around here, so I hope you'll stay with us and make many more improvements.
I'm really happy to have you here comrade, and look forward to contributing with you!
User page/talk
Edit
Hello, I noticed that you added some info to your talk page, you should actually transfer that info to your user page which is for you to tell us about yourself and whatever else you might like to add for others to see and your user talk is for other users to communicate with you. Please enjoy the wiki,
Col. I Ross I Talk 23:55, 17 April 2009 (UTC)