Greetings comrade!
Edit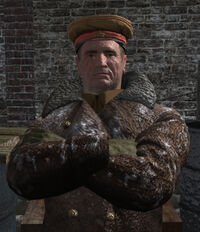 Welcome to the Call of Duty Wiki comrade! There's a lot to do around here, so I hope you'll stay with us and make many more improvements.
I'm really happy to have you here comrade, and look forward to contributing with you!
Opinions/Comments
Edit
Hello, I noticed your edit to Victor Zakhaev. Please don't make comments or respond to opinions in articles.
Ex. Imran Zakhaev is 43 years old. Lol, he looks like his is about 67 years old.
Making these edits are completely useless. If you don't agree with something, bring it up on the talk page or if you know for a fact that it isn't true, remove it from the article and state why in the summary. Thanks,
Col. I Ross I Talk 13:23, 13 March 2009 (UTC)