Connecting...

<Price> Ok J3VT... you up for helping us find Makarov? If so, WikiActivity is a great place to start, because you can get up to date with everything happening on the wiki in real time.

<Soap> I'd also suggest you check out the Manual of Style for some more tips about editing and also review our policies to make sure you understand them.

<Price> Want to hear a little tip I learnt in the SAS? Well you can sign your name on talk/discussion pages by typing ~~~~. This will automatically add your signature and the date.

<Soap> If you need anymore help mate, feel free to contact me or another administrator.

<Price> So... do you think you've got what it takes?

Bad Edit

An edit you recently made to a page was undone because it was either:
Incorrect
Contained poor English
Did not conform to Wiki policies
Unnecessary
Concerned real life info, which is not generally allowed
Contained speculation, which is not generally allowed
Opinionated
Featured a formatting error
Please read the Manual of Style and the policies in order to brush up on the style and professionalism that is expected on this wiki.
You are still free to make edits; however, please make sure they are up to standards!
Thanks!

Stop
Stop changing SAS to a redirect to Special Air Service. They're called the SAS in game, so the content should be on that page. -- sactage (talk) 12:29, July 10, 2011 (UTC)
Block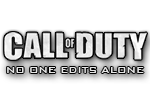 Due to your unacceptable behavior, you have been blocked for 1 week. You are welcome to come back and edit sensibly after the block is up, however it is very strongly advised that you read and review our policies thoroughly before you start to edit again. If you believe your block is unfair you can leave a message on this page and an administrator will consider it.

Any more unacceptable behavior and another block will be issued. Thank you.
Links
Please use external links for other pages on this wiki. Internal links work to both outside and inside this wiki, but they might break redirect pages, and also make the page source look worse. For example, a page to Modern Warfare 2 can be simply put with [[Call of Duty:Modern Warfare 2]], rather than [http://callofduty.wikia.com/wiki/Call_of_Duty:_Modern_Warfare 2]. -

MLGISNOT4ME [Talk] - 17:31, August 30, 2011 (UTC)
Sorry, I didn't know that. Though I do now. Thanks for the help :) J3VT 17:35, August 30, 2011 (UTC)