Greetings Comrade!
Edit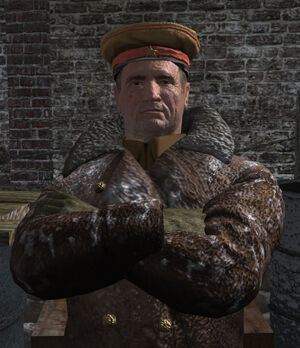 Welcome to the Call of Duty Wiki comrade, if you wish to edit well you must do exactly as I say. Now read the text below and go to the link if you will.
You have to sign in if you wish to keep track of all of your edits. Now log in or just create a username.
Recent changes is a your first stop, because here you can see what other people are editing right this minute, and it is also where you can help.
Any Questions? If you have any, you can them at the Talk:Main Page or on the "discussion" page that is with each article, or post a message on one of the wiki administrator's talk page.
Need any help? The Community Portal has an outline of the wiki, and some pages to help you learn how to edit.
I'm glad to have you here comrade, and I very much look forward to be working with you!
Graveyard
Edit
Is there any way you can prove that Graveyard is a real map? because theres nothing about it on the infinity ward website. BR Ninja15 23:43, 21 February 2009 (UTC)
Justification for the Undo of your Deathstreak edit.
Edit
It was opionated, and therefor, did not meet CoDWiki Standards. Biased Opinions in most parts of the article pages are not allowed. Razgriez 21:01, March 29, 2011 (UTC)