Welcome to the team

Edit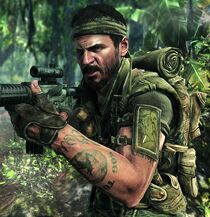 Greetings from SOG, recruit. We're happy to have you aboard at the Call of Duty Wiki, so here's a briefing on how you can help:
I look forward to having you here, my friend! It is always good to have another soldier on the front lines of editing!
Bad Edit
Edit An edit you recently made to a page was undone because it was either:
Incorrect
Contained poor English
Did not conform to Wiki policies
Unnecessary
Concerned real life info, which is not generally allowed
Contained speculation, which is not generally allowed
Opinionated
Featured a formatting error
Please read the Manual of Style and the policies in order to brush up on the style and professionalism that is expected on this wiki.
You are still free to make edits; however, please make sure they are up to standards!
Thanks!

Not everything has to be a reference to something.

Raven's wing

Talk

22:34, July 12, 2012 (UTC)