CADET TONY IS AT YOUR SERVICE. PLEASE LEAVE A REPORT ON MY AFTER ACTION REPORT PAGE (TALK PAGE) FOR A REPORT, ACQUIRES, CORRESPONSE, OR A QUESTION. CADET TONY OUT.
!!!!WARNING!!!!: THERE ARE TWO RULES ON MY A.A.R PAGE:
SIGN YOUR REPORTS WITH FOR TILDES OR THE SIGNATURE BUTTON. IF YOU DO NOT SIGN YOUR REPORTS, I CANNOT TALK TO YOU
IF YOU SLANDER OR HARASS ME ON MY A.A.R. PAGE, I WILL NOT CORRESPOND AND I WILL REPORT TO AN ADMIN IMMEDIATELY.
Welcome to the wiki!

Edit
---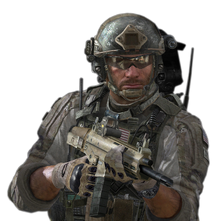 Hello Tony 1998, and welcome to the Call of Duty Wiki! Thanks for your contributions. We hope you'll stick around to make even more!
Have you created your user page yet? It's your own personal page, and you can do anything you want with it! Your user page will also help us get to know you as an editor better.
Here are some links that you may find helpful:
Still have questions? Feel free to ask me or contact another administrator. Sysops' names are highlighted in green and bureaucrats' names are highlighted in cyan.
We hope you enjoy editing here, and look forward to seeing you around!
-- MLGisNot4Me (Talk) 21:31, March 10, 2013
RE: My Deleted Post
Edit
It's a post that does not aid the article development, as it says that it's acceptable to remove anything that does not stay on this topic or is general discussion about the article's subject that does not aid the page.  
 feargmtalk  05:01, August 30, 2013 (UTC)
That either means they haven't been spotted or more generally are more than a week old. Furthermore, "other people got away with it so I should too" isn't a defence.

Raven's wing

Talk

21:54, August 30, 2013 (UTC)