Real Life Info
Edit
the Winchester 1200 is called the W1200 in game, so that's why the article is called that. Treat all weapons as fictional. If the M79 is called Thumper, then the article name should be Thumper here.

Sergeant Price25

00:10, October 4, 2010 (UTC)
Greetings, comrade!
Edit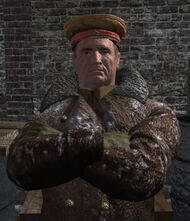 Welcome to the Call of Duty Wiki, comrade! There's a lot to do around here, so I hope you'll stay with us and make many more improvements.
I'm really happy to have you here, comrade, and look forward to contributing with you!