Vacant
Talk

7
5,934pages on
this wiki
Vacant is a small multiplayer map available in Call of Duty 4: Modern Warfare and Call of Duty: Modern Warfare 2 in the Resurgence Pack DLC.
Vacant is a small map that is set in an abandoned Russian office building. The main building contains various pieces of office equipment, cubicles, and random debris lying around. Attached to the main building is a warehouse, which connects to the main office area. Outside one can find multiple destroyed vehicles, abandoned shipping containers, and a large oil tank. The map caters to multiple play styles. Most of the map plays host to intense close quarter battles, due to most of the map being indoors. The outdoor areas usually serve as flanking positions, but contain more long range combat. Also at the each corner of the map, there are overviews of the city.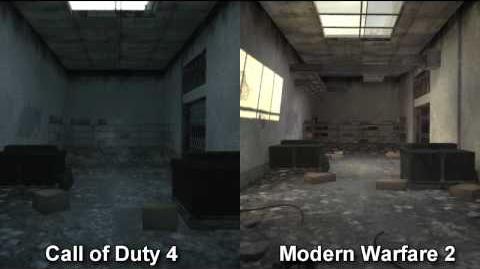 Call of Duty: Modern Warfare 2Edit
On the sides of some of the green shipping containers, one can see a stylized logo of Captain Price's face smoking a pipe. Below the face it says, "OSCAR MIKE'S SHIPPING COMPANY", followed by, "WE ARE ALWAYS ON THE MOVE."
The gate separating the back office (Spetsnaz spawn) and hallway is removed when playing Demolition. It is perhaps the only map to feature a piece of terrain that is not in every game-mode.
The map itself is much brighter.
In Call of Duty 4: Modern Warfare, if the player goes outside where the shipping containers are, there are apartment buildings surrounding the area. In Modern Warfare 2, these buildings are replaced by the Chernobyl Nuclear Power Plant.
If the player goes far enough out of the map in Spectator mode, they will be able to see the background picture is of Pripyat, Ukraine, suggesting that it is in the Chernobyl environment. Also in Spectator, the player can see the building they left before entering the hotel at the end of "All Ghillied Up".
In the small makeshift garage on the outside of the map, there is the same calendar of the girl as the one in Carnival.
Just like in the barbershop on Favela, when shot or knifed, the mirrors in the bathroom will cause damage to the player if they are close enough.