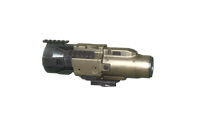 Variable Thermal Scope
The Variable Thermal Scope is an attachment that appears in Call of Duty Online. This attachment is only available for Sniper Rifles and will be unlocked at weapon level 31 (the max level of a weapon). It's a combination of Variable Zoom and Thermal Scope.
Ad blocker interference detected!
Wikia is a free-to-use site that makes money from advertising. We have a modified experience for viewers using ad blockers

Wikia is not accessible if you've made further modifications. Remove the custom ad blocker rule(s) and the page will load as expected.