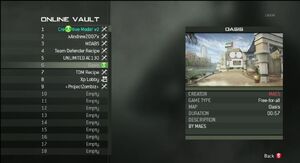 For other uses, see The Vault.
The Vault in Call of Duty: Modern Warfare 3 is the equivalent of the Call of Duty: Black Ops File Share, and is used to save screenshots, full games, clips, or custom game types. Elite Premium Members have 24 Vault Slots, while non-premium Elite Members only have eight, along with a 30 second max rendering time for Non-Premium Elite Members, and up to a minute of rendering time for Elite Premium Members.
Ad blocker interference detected!
Wikia is a free-to-use site that makes money from advertising. We have a modified experience for viewers using ad blockers

Wikia is not accessible if you've made further modifications. Remove the custom ad blocker rule(s) and the page will load as expected.