Hey! User! Drop the chips and get me some images!
This article is in need of quality images. Feel free to upload and insert some into their respective locations.

Water Station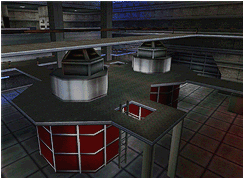 Game
Call of Duty: Modern Warfare 3: Defiance
Teams
US Marine vs Russian Soldier
Location
Unnamed Water Station
Terrain
Metal walkways and ladders
Modes
All
Type of Combat
Long range, some mid range and close range
Campaign Map
Possibly Lights Out
Water Station
is a multiplayer map in
Call of Duty: Modern Warfare 3: Defiance
. It takes place in a water treatment/pumping facility.
A rather large map, Water Station features two 'sides' of the map and four floors. The bottom of the map, a second floor featuring some restricted walkways, a third that has slightly larger walkways and a fourth that features side crossings to either side of the map.
This map also features a lot of ladders and stairs that lead to the higher floors of the map. Since the 'sides' of the map are quite distanced apart and the map is composed of floors, long ranged combat may be used frequently. Mid range and short range may also be used in instances such as the staircases and rooms that are in the map.